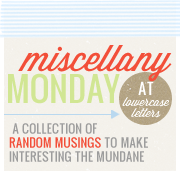 To me, nothing says summer more than waking up, having a tea and scone, and grabbing a great book. Now that my summer vacation is only three little weeks away, I've decided to put together a list of my must reads (and re-reads) of the summer. I like to mix it up: classics, mysteries, nonfiction, how-to, even children's literature. I hope I can add a little something to your must-read list too!
1. A Bit of Mystery: Murder on the Boulevard
I love a good who-done-it. Normally I will pick up one of the few remaining Agatha Christie novels that I haven't read for a quick summer read. This year, however, I'm choosing Murder on the Boulevard, written by my blogger friend over at Blonde Episodes. In addition to a murderous plot (one of my faves) it's set in 1950s Hollywood. Glamour and murder- what more could I ask for!
2. The Classic: Jane Eyre
I'm kind of shocked that I still haven't read this, and normally I would never see a movie without having read the book first. While I enjoyed the film version, I did feel that there was quite a bit of character development that must have been left out. I was thinking, "I don't really know why Jane and Mr. Rochester are in love." Being that I love classics, this has been added on to the list. I know I will enjoy watching the movie again with the added knowledge of what went on in the novel.
3. Design Book: Domino
Since I have decided to go back to school for interior design, I need to read up on it as much as possible. I've found my mother's old textbooks from when she was a student, and there is of course my textbook, but I know to get the big picture, that is not going to be enough. I have already subscribed to Architectural Digest and Elle Decor as well. I picked up this book at Barnes and Noble last weekend (I loved the magazine, which, unfortunately, is no longer in print). It seems to be a quick read, but I'm sure I'll be able to pick up some knowledge from it. One thing is for sure: this will not be the only interior design book I read this summer!
3. The New "It" Book: Water for Elephants
Like I said, I usually don't see films adapted from novels until I've read the original version, and I stuck to it with this one. (You have no idea how much I was tempted to see my girl Reese!) I had heard great things about the book before I even knew there was a movie coming out, plus I love the time period/circus setting, but with finishing The Millenium Trilogy, I just didn't have time to pick this one up. I'll have it done before the movie makes its way to my Netflix queue!
5. Children's Literature: Rick Riordan
To be honest, I'm not sure how much of my addiction to children's literature has to do with my job, or if I really enjoy light reads with fast plots, and no violence, sleaze, and swearing. I think it is probably a mixture of the two. Anyhow, if you don't know who the 'It Writer' for children is right now, it is without a doubt Rick Riordan. Both my husband and I raced through the entire Percy Jackson series (once again I was disappointed with the movie adaptation), which is about a young boy who realizes he is the demigod son of Poseidon. I'm really into ancient mythology (once again part of the job description), so not only are his books entertaining, they are also very educational without straight out saying, "Okay class, today we will be learning about the Greek Olympians." Now that the Percy Jackson series is over, he has started The Kane Chronicles, a similar series, only now dealing with Egyptian mythology (thank you Mr. Riordan for writing my 6th grade history curriculum for me). The second book in the series, The Throne of Fire, has recently been released, as has The Lost Hero, a sort of spin-off of the Percy Jackson series. I can't wait to read both of his new books, as well as the next book in the 39 Clues series, Vespar Rising, and the sequel to The Lost Hero, titled Son of Neptune, which is due out in the fall. What a great year for children's literature; thank you again Rick Riordan!
6. Favorite Rereads: Pride and Prejudice and The Hunger Games
I know, I know, could someone's two favorite books be any more different? Well, there are different sides to different people, and these two bring out two of my sides: I love romance (the historical kind- not Fabio), and I love science fiction post-apocalyptic epics. Wierd, I know!
Let's start with Pride and Prejudice. I think I love this book so much because I first read it right before my wedding. Since, I have read it again every year, as well as seen countless movie versions and adaptations (uhumm, does Twilight ring any bells?) and recently written sequels. Yes, I've even read Pride and Prejudice and Zombies- not bad! Want more proof about how much I love this book? My dog's name is Mr. Darcy. It is the ultimate early morning scone and tea read.
And moving on to my newest love, The Hunger Games. I picked this up over a year ago because Stephenie Meyer was raving about it. I could not put it down! Never before had I been entirely enthralled in a book. Okay, maybe Twilight, but I think more with this. The story is set in a future post-war North America. To prove to the people that the government is in complete control, each of the 12 districts have to send two tributes, aged 12-18, into The Hunger Games, a to-the-death match, which is mandatory television viewing. I could go on about the plot, but trust me, it is amazing! The final book in the trilogy came out last fall, and I had never before cried over a book. Oh, did I mention the movie is in pre-production. Please God don't let them ruin this like they ruined Twilight!
I hope everyone enjoys their summer and makes time for a bit of reading!
You May Also Like: